Royal Easter Show
I'm completely shocked by the emphasis put on Easter in New Zealand. I didn't think much of it given how low key Halloween is here, and boy, was I wrong. Easter is a big, exciting event. The Easter Bunny made appearances at school and at the retirement home the preschool kids visited. My kids came home with bags of chocolate eggs and bunnies several times this week. There are huge Cadbury and Whittaker's displays scattered around the grocery stores. (In fact, Cadbury appears to be a national obsession.)
The biggest event with the most hype surrounding the four day Easter break is the Royal Easter Show at the ABS Showgrounds. This event has been going on for the past 175 years, so we felt obligated to check it out.
I wasn't prepared for the spectacle.
Imagine the Texas State Fair. Take away Big Tex, the cattle roping, auto show, and booze. Now shrink the geographic footprint of the event into the size of a large strip mall parking lot. Cram people in shoulder-to-shoulder with the same amount of carnival rides, games, artery-clogging food, and craft fair. That pretty much sums up the Royal Easter Show.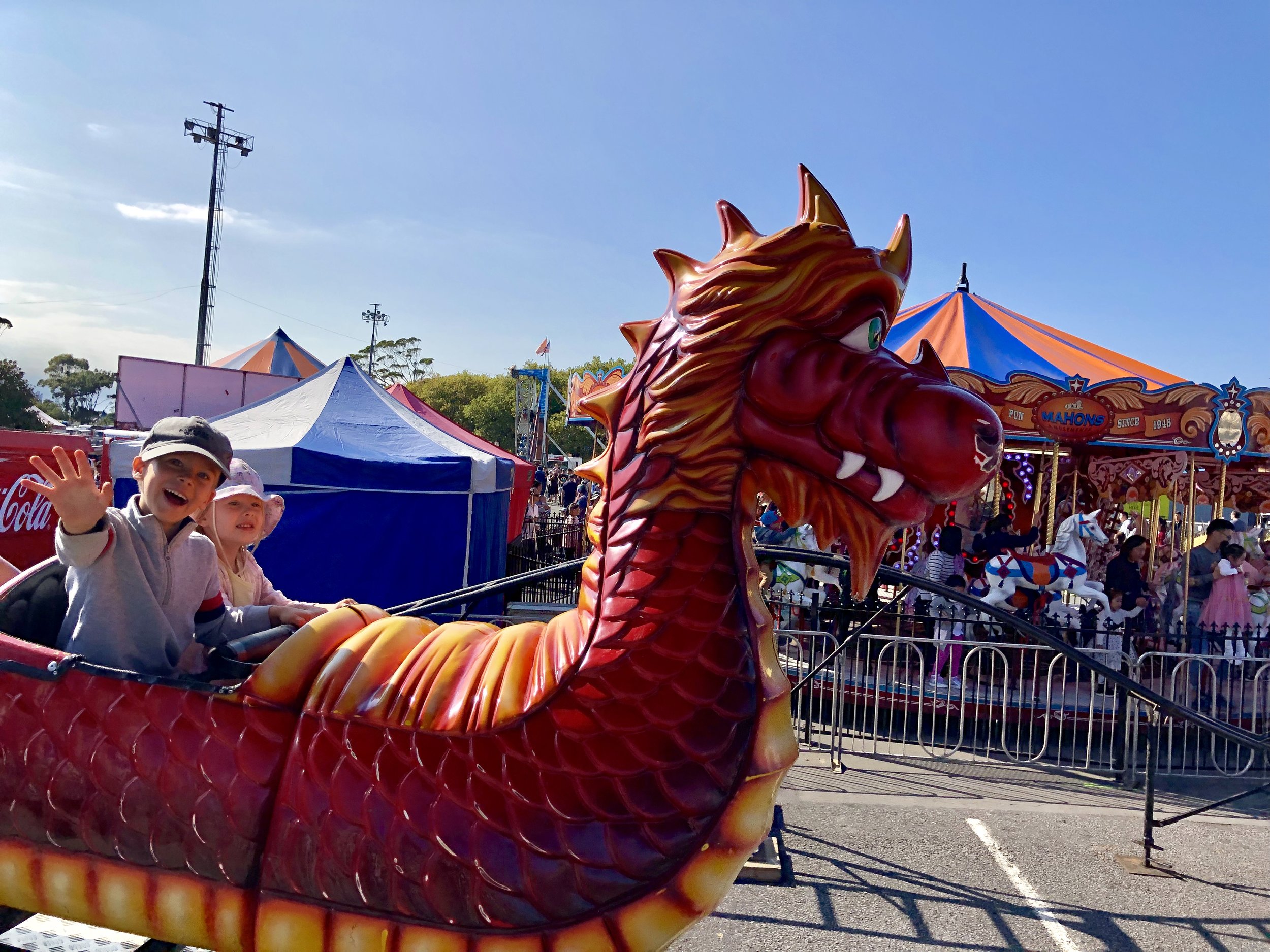 The rides were a big hit for us. We had some disappointment when my (newly turned four year old!) daughter wasn't tall enough for a ride, but there were plenty of options that were age appropriate for her. Plus, she was right at the 1 meter line (with a little help from her hat), and the attendants were fine with her going on a ride as long as I was cool with it and she was excited. I can't imagine that happening in the US. The attendants would be too afraid of a problem with their liability insurance.
The Royal Easter Show is going all Easter weekend, so if you plan on going this year (or next!) here are a few tips:
Get there early. Parking is not easy, costs NZ$10, and still necessitates a decent walk to the event.

Give yourself a generous budget. You must purchase tickets for the rides, and they cost between NZ$1.10 and NZ$1.30 depending on the package you buy. Rides cost between 4 and 6 coupons each, though there are a few lower and a few higher. the tickets are only good on the rides. Don't start your day by purchasing a huge number of tickets thinking they are also redeemable for games and food. They're not. You may find yourself staying an hour too long just so you can ride more rides to use up tickets.

The marketplace isn't great. There's the usual craft fair stalls and incredibly over priced balloons. You'll probably end up with a few of the NZ$10 balloons after your kids see someone else with one, but if at all possible, just avoid the marketplace.

Pay attention to the live entertainment schedule. Zirka Circus (a rebranding of Cirque Grande) performs daily, as well as the Looney Tunes show on the main stage. On Friday and Sunday evenings there are some New Zealand musicians performing as well.

If you're into animals, there's a decent A&P show. This isn't my jam, so we didn't spend time there, but if you're in the mood to check out a pig raised by my preschooler's class, along with a lot of other farm animals, you can.

Nutritious food options are hard to find. All of the usual carnival food is there: Slushes, hot dogs, candy floss (aka cotton candy), and ice cream are ubiquitous. Eventually we found a dim sum stand (because of course! This is New Zealand, and there's Asian food everywhere) so we at some dumplings and buns for lunch. They weren't great, but they were better than the alternative deep-fried options.
Will we go back next year? Probably. This show made a huge impression on the kids as it was their first big carnival/fair. I'm sure we'll be talking about it all year long.