Big Bula Waterpark, Fiji, Part II
Big Bula Waterpark was an amazing surprise! We spent the entirety of Wednesday here. Literally - we arrived when they opened at 10 am and left shortly before closing time. The kids, especially my five year old, absolutely loved it. This is a small park with a variety of waterslide and activity options, most of which are inflatable. I was shocked at how empty the park was. Our visit was in April, and we felt like we had the place to ourselves and never had to wait for a turn on anything!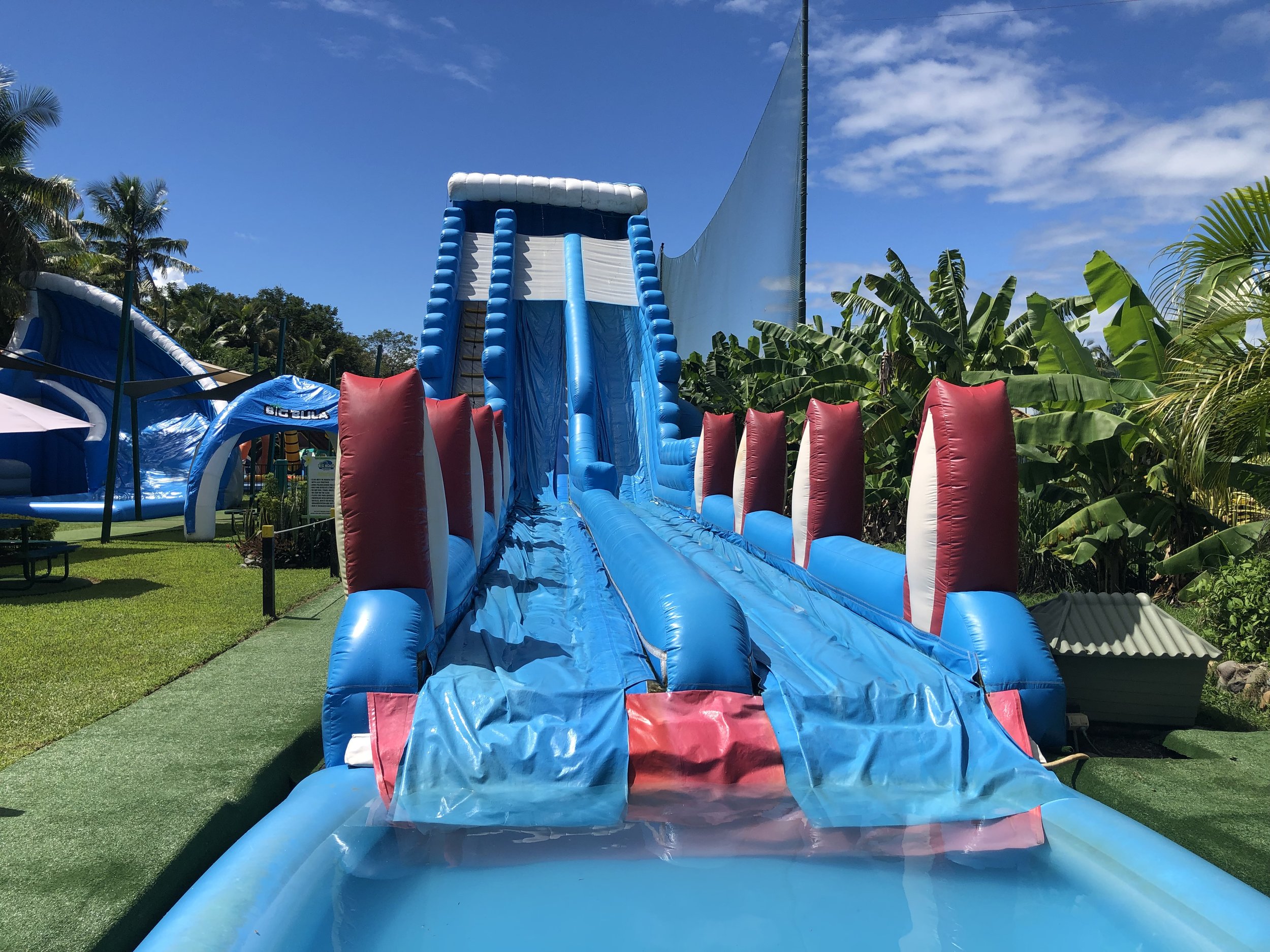 Upon entering the park, you go through the shark jaws and find a number of slides, starting with relatively mild inflatables that slowly progress to larger and higher slides. Interspersed are a few activities, like an inflatable climbing wall (more of an obelisk, tbh) a mechanical surf board to ride, a jousting station, a mini-spa where you can get your hair braided or toes painted, and a small cafe that serves predictably greasy food and canned beer. And ice cream.
There's also a fenced in area for smaller kids and appropriately sized slides and bouncy areas for kids aged about four and under. My four year old spent the majority of her time in this area and had a blast.
All of these attractions are found off of a long central corridor of astroturf, covered periodically with shade sails. This should go without being said, but SLATHER YOURSELF IN SUNSCREEN. Repeatedly.
At the end of the long walkway, you'll find the motherload of slides. There are four slides off of the central tower, and they were so much fun! And this is coming from someone who isn't a waterpark person. My son and I climbed the four story tower to the very top slides with a two person inner tube for a ride down the cyclone - the blue and white slide to the right. Y'all, I haven't had that much fun in forever. I squealed like a kid and had an absolute blast. I think we climbed those stairs about 20 times during the day, and I didn't mind at all because we were having such a great time. (Side note - don't leave your waterproof camera at home like I did. D'oh!)
The park itself isn't cheap. Family packs for four will run you FJD$370 (US$172 or thereabouts) but I did find a workaround for cheaper tickets. I asked at one of the hotel shops if they sold tickets to the park, and the girl working behind the counter sold me a gift card for two adults for FJD$170, cash. Typical adult tickets are FJD$110 each. It was either a scam or a great deal, and as my kids were running around the store, knocking things off the shelves, I forked over the cash as a way of making amends and possibly getting a good deal. As it turned out, the gift certificate was good, and we purchased two kid passes for FJD$60 each. So instead of spending FJD$340, we spent FJD$290 (USD$135). However, the food at the park was cheaper than at any of the hotels. Beers were FJD$9.50 (USD$4.42) and the kids happily ate large hot dogs with cheese and tomato sauce (aka ketchup) for lunch at FJD$9 a piece.
Getting to the park is simple if you're staying at any of the hotels on Denarau Island. There is a free Bula Bus that transports visitors from all of the hotels to the waterpark. If you've already purchased a Bula Bus pass, that will loop you around to the park as well. If you're staying at the Sheraton or Westin, it might be faster to walk.
If/when we return to Fiji, we will plan on spending more time at Big Bula until the kids are perhaps ten or so. I think they'll outgrow the park at that point, but until then, you'll find me sharing a tandem inner tube with my son, letting out a "whoo hoo!" as I go down the blue and white twisty waterslide. This was a highlight of our trip.