Robert is 2! Like many little boys, he's obsessed with trucks, and since he has a June birthday, he will inevitably have a backyard swimming party. Therefore, this year's theme was "Trucks Go Swimming." I had so much fun putting together this event, though there were moments when I thought I was crazy for planning a party for 20 toddlers and their parents 7 weeks after giving birth. Fortunately, we had lots of help and everything came together!
1. Invites
There's got to be a fabulously cute invite to get the party started. I found these at Brightside Prints on Etsy, of course. Not only are the invitations adorable, I was able to get the actual invites and envelopes, not just a PDF that I had to send to a separate printer. I ordered coordinating party favor tags and food tents for our buffet.
2. Activities
Swimming was the big activity, but we provided some truck and construction themed options, too.
Old Amazon boxes have never been put to better use. I wrapped some in a brick paper and intended to spray paint a birthday message on the side of the completed brick wall. Alas, I ran out of time before I was able to put up a graffiti message. We rigged our wrecking ball by stuffing an old dry cleaning bag with foam and hanging it from a tree. All of the kids loved taking turns smashing the brick wall - and some adults, too.
Like Robert's birthday shirt? It's from FreshFrogTees!
The gravel pit was the highlight for some party-goers. We filled a simple kiddie pool with a few bags of gravel. I got inexpensive dump trucks, loaders, and shovels and let the kids go crazy.
3. Refreshments
We kept the food super, super easy and stuck with a Build-a-Burger Bar. We purchased pre-made patties and threw them on the grill. Our simple toppings included cheese, tomato, onions, lettuce, mayo, mustard, ketchup, and Sriracha. We had chips and boxes of raisins for sides. For drinks, we filled coolers with 2 choices of beer, bottled water, and juice boxes. Easy, simple, and very low stress.
4. Cake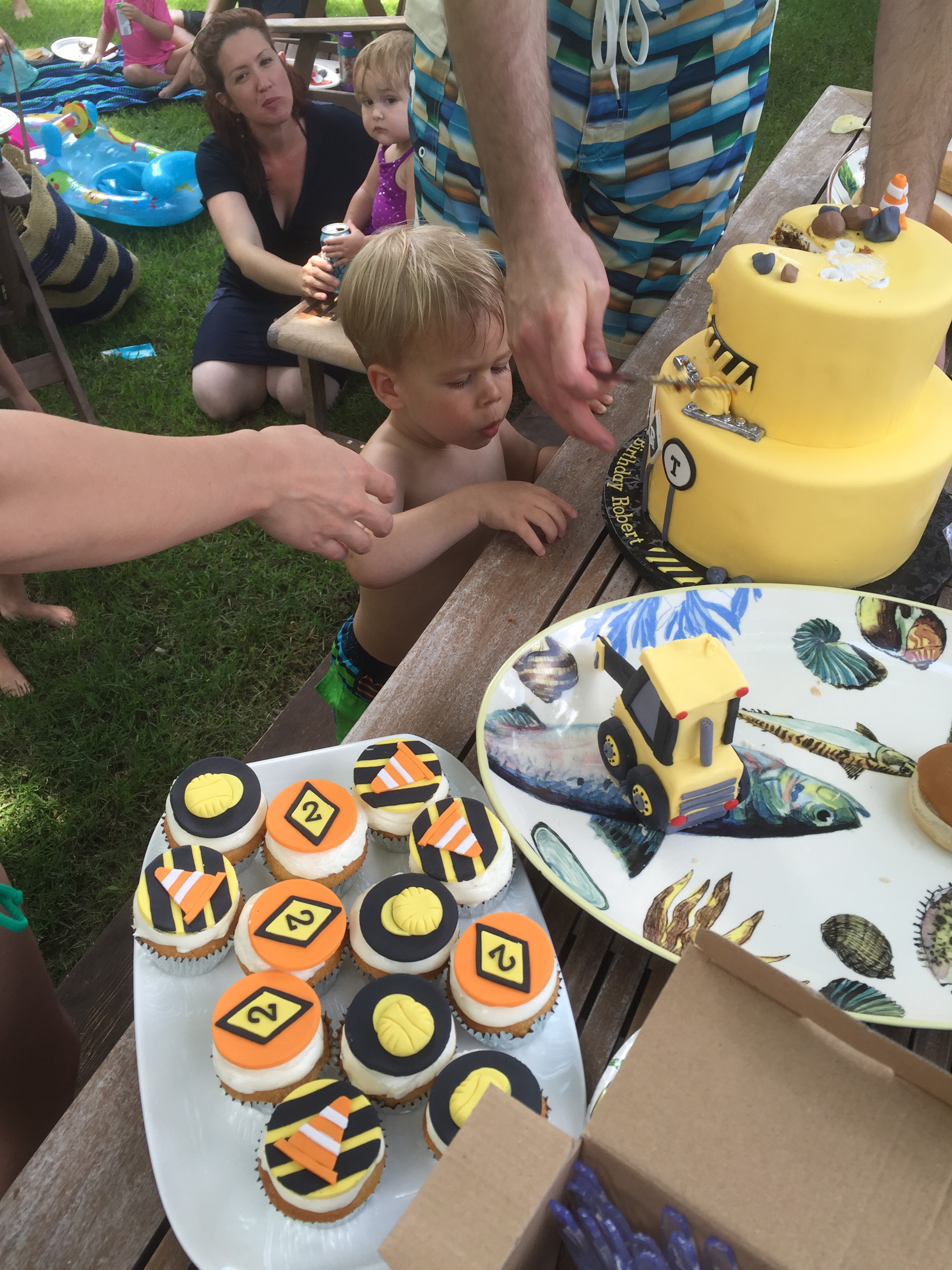 Holy moly this cake was delicious! Coco Paloma Desserts came through in a huge way when my normal cake folks flaked. She prepared this delicious carrot cake with just a week's notice. Then, three days ahead of time, with more RSVPs than I anticipated, she suggested adding a dozen white cake cupcakes (construction themed, of course). Everything was stunning, and I couldn't have been more pleased.
5. Party Favors/Decorations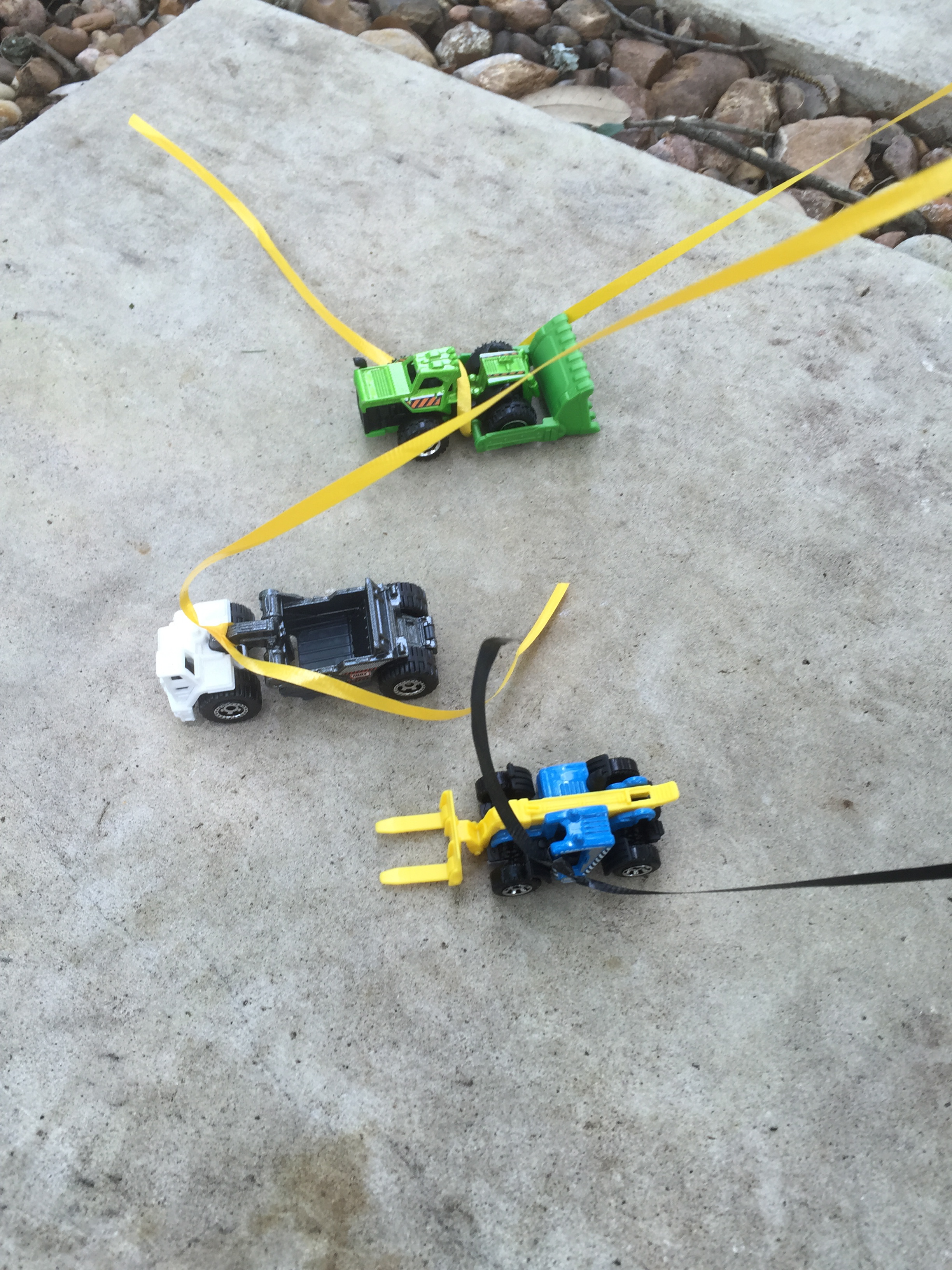 My decorations and party favors did double duty. I purchased mounds of the Matchbox Construction truck sets and twenty four orange, yellow, and black balloons. I tied a party favor tag on the top of the balloon string, and used the Matchbox car as the balloon weight. (Hint: flip the cars upside down when they are acting as weights as the wind can blow and roll the cars away.) I lined our front walk with alternating colored balloons, and guests got to pick their truck/balloon gift as they left. My decorations were cleaned up, and everyone left happy.
At the end of a busy day, I had a sacked out little boy on my hands. We all had fun and enjoyed celebrating with our family and friends.